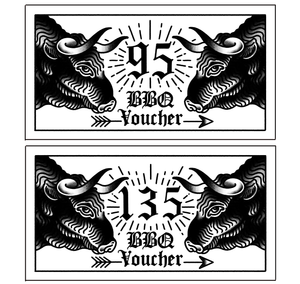 WE GOT LOTS OF COURSES NEXT YEAR! GIVE SOMEONE THE GIFT OF AN EXPERIENCE!
OUR BBQ COURSES WENT DOWN A STORM THIS YEAR, NOW WE'RE LOOKING AHEAD AT NEXT YEARS EVENTS. THESE MAKE EPIC XMAS GIFTS, TO BE REDEEMED WITH US FOR ANY OF OUR BBQ COURSES. 
CLASSIC COURSES : £95 
LOW & SLOW COURSES : £135
INFO FOR THE GIFTEE: IF YOU'VE RECIEVED ONE AND WANT TO BOOK A COURSE OR FIND OUT ABOUT UPCOMING COURSES PLEASE DROP US AN EMAIL INFO@TUBBYTOMS.COM AND WE'LL GET YOU BOOKED IN!
THE SCHEDULE IS CURRENTLY LOOKING SOMETHING LIKE THIS:
MARCH: EASTER WHOLE LAMB LOW & SLOW
APRIL:  PITMASTER LOW & SLOW
MAY: RUBS & SAUCES CLASS - HOW TO MAKE, USE & LOVE FOOD RIGHT.
JUNE: BEGINNERS CLASSIC BBQ COURSE
JULY: PITMASTER LOW & SLOW
AUGUST: TURKISH STYLE CLASSIC COURSE
SEPTEMBER: SOUTH AMERICAN STYLE CLASSIC COURSE
OCTOBER : THANKSGIVING FEAST CLASSIC COURSE
NOVEMBER : FESTIVE FEAST LOW & SLOW
NO CASH ALTERNATIVE. NO REFUND ONCE BOUGHT, JUST GIFT IT TO SOMEONE ELSE IF YOU DON'T FANCY IT. 
NO REFUND, NO CASH ALTERNATIVE, JUST USE AND ABUSE IT! SPEND ALL THE MONEY IN ONE GO TOO, NO PART PAYMENTS CUZ IT GETS COMPLICATED AND NOONE NEEDS THAT SHIT RIGHT!?