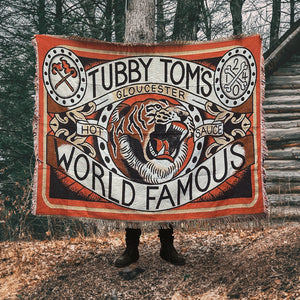 THE WORLD'S COOLEST SNUGGLE BLANKET! LIMITED EDISH!
 OK SO IN MY WILDEST DREAMS I NEVER THOUGHT I'D BE SELLING BLANKETS. BUT HERE WE ARE, AND WE AIN'T SKIMPIN' BABY! 
THIS DESIGN IS BASED ON THE OLD MATCH FACTORY LOGO FROM GLOUCESTER TOWN CENTRE, IT'S A PLACE I LOVE AS I GREW UP JAMMING WITH BANDS THERE, RENTED MY FIRST KITCHEN THERE AND OBVS HAVE HERITAGE IN GLOUCESTER., ITS JUST FUGGIN COOL OKAY!
THESE ARE THE MOST LUXURIOUS WOVEN BLANKETS WITH TANTALISING TASSELS AROUND THE EDGES. PERFECT FOR SNUGGLES OR FOR BUILDING FORTS. YOU CHOOSE.
VERY LIMITED. IF THESE GO QUICK WE'LL SMASH ANOTHER ORDER IN WITH THE RUG WEAVERS! 
ENJOY!