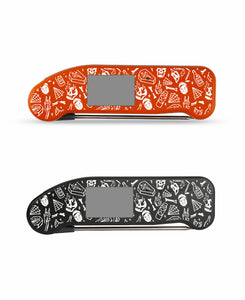 LIFE IS SO MUCH SWEETER WITH AN INSTANT READ THERMOMETER!

AN ESSENTIAL TOOL IN NAILING YA FOOD EACH TIME - NO MORE GUESS WORK OR DOING STUPID HAND TECHNIQUES TO TEST THE DONE-NESS OF A STEAK. COOK TO TEMPERATURE NOT TIME! 
• INSTANT 1 SECOND TEMP READINGS
• TEMP READINGS BETWEEN -49.9 and 299.c
• WATERPROOF FOR EASY CLEANING
• EASY TO READ SELF ROTATING DISPLAY
• 2,000 HOUR LONG BATTERY
• HANDMADE IN THE UK
NEVER COOK A STEAK WRONG AGAIN, NEVER POISON ANYONE WITH RAW CHICKEN, THE THERMAPEN WILL TELL YOU HOW TO COOK EVERYTHING EXACTLY RIGHT! EVERY TIME! 
THIS IS A LIMITED EDITION VERSION, IF THESE FLY WE'LL MAKE MORE.
Xxxxxxx