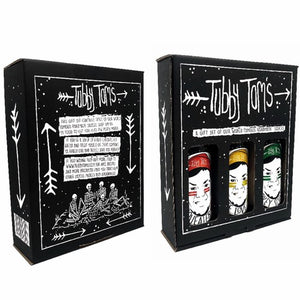 IF YA DON'T KNOW, NOW YA KNOW!
The ultimate gift idea for someone you love, or just treat yourself - you're worth it!
We've all been there, Birthday round the corner and ya can't find the right gift. This will solve all of your problems, who doesn't love sauce! Buy it for ya girlfriend, baby mama, neighbour or parole officer it's your choice and now you mix and match to suit their tastes!
The Tubby range is growing by the day so there's something for everyone - make an epic bbq box for the grill master in your life or make a box of fire for the chilli freak at the office.
3 x 150g BOTTLES