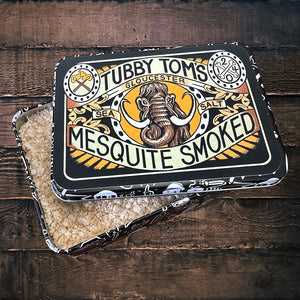 STRAIGHT OUTTA THE TUBBY SMOKER!
IT'S NO SECRET THAT WE LOVING SMOKING STUFF AT TUBBY HQ.
WE FINALLY INVESTED IN A LARGER SMOKER SO WE'RE DOING BATCHES OF OUR WOOD SMOKED SEA SALT TO SELL. THIS TIME THEY'RE IN LARGER 200G TINS AND THEY'RE SO AWESOME.
MESQUITE WOOD SMOKED
MESQUITE IS A HARD WOOD FOUND ACROSS LARGE PARTS OF SOUTHERN AMERICA AND IT GROWS IN THE FORM OF SMALL, SPIKY BUSHES!
IT'S FAMOUS FOR IT'S STRONG AND ROBUST FLAVOUR AND IT YEILDS THE LARGEST AMOUNT OF SMOKE OF ANY OF THE SMOKING WOODS. IT'S COMMONLY USED IN TEXAS LOW AND SLOW, ESPECIALLY FOR BRISKETS. IT ALSO LENDS ITSELF TO MEXICAN BARBACOA WHERE HEAVY FLAVOUR IS THE NAME OF THE GAME. 
IT'S IDEAL FOR ANYTHING BEEFY, LAMBY, GAMEY AS WELL AS TACOS, BURRITOS AND FAJITAS.
THIS SALT CAN BE USED AS A CRUNCHY FINISHING SALT FOR YOUR FOOD, FOR SEASONING UP SLOW COOKED MEATS OR ANYTHING ON THE GRILL AND IT CAN EVEN BE USED TO MAKE THE SMOKIEST HOMEMADE POPCORN IN THE UNIVERSE!
THE TINS ARE ALSO VERY VERY RAD. SO YOU'LL WANT TO KEEP THEM AS STASH TINS! 

Show us how you like to use it!