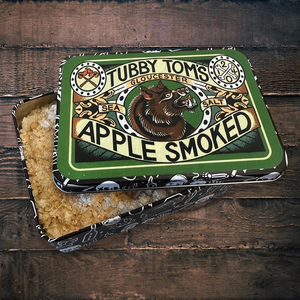 STRAIGHT OUTTA THE TUBBY SMOKER!
IT'S NO SECRET THAT WE LOVING SMOKING STUFF AT TUBBY HQ.
WE FINALLY INVESTED IN A LARGER SMOKER SO WE'RE DOING BATCHES OF OUR WOOD SMOKED SEA SALT TO SELL. THIS TIME THEY'RE IN LARGER 200G TINS AND THEY'RE SO AWESOME.
APPLE WOOD SMOKED
APPLE WOOD IS A FRUITWOOD THAT YEILDS A MILD, SWEET FLAVOUR WHICH ENHANCES THE FLAVCOUR OF MEAT. APPLE WOOD IS SPECIFICALLY GOOD FOR PORK, HENCE THE WILD BOAR ON THE TIN! BUT ALSO CHICKEN AND FISH, IT DOESN'T OVER POWER THE DELICATE FLAVOURS, ONLY ENHANCES.
THIS SALT CAN BE USED AS A CRUNCHY FINISHING SALT FOR YOUR FOOD, FOR SEASONING UP SLOW COOKED MEATS OR ANYTHING ON THE GRILL AND IT CAN EVEN BE USED TO MAKE THE SMOKIEST HOMEMADE POPCORN IN THE UNIVERSE!
THE TINS ARE ALSO VERY VERY RAD. SO YOU'LL WANT TO KEEP THEM AS STASH TINS! 

Show us how you like to use it!