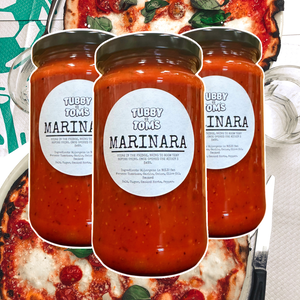 I GET A BIG TINGLE OVER SAN MARZANOS, I FEEL LIKE A REAL ITALIAN BOSS WHEN I HAVE THEM AND I NEVER WANT THAT FEELING TO END.
THIS IS OUR HOME STYLE MARINARA SAUCE WITH SHED LOADS OF TOMATOES, GARLIC AND HERBAGE ALONG WITH TOP QUALITY PRIMO EXTRA VIRGIN OLIVE OIL. 

THIS IS NOT A HOT SAUCE. IT IS A LUXURIOUS SAUCE FOR PASTA, FOR DIPPING GARLIC BREADS, FOR LAYING OVER PIZZA DOUGH, USE AS A SALSA FOR BREAKFASTS. IT'S SIMPLE, HANDMADE, DELICIOUS AND ALL THE TUBBY STAFF BAGSY THEIRS WELL IN ADVANCE. 
INGREDIENTS: San Marzano Tomatoes, Garlic, Onion, Olive Oil, Salt, Sugar, Pepper, Herbs.
THIS IS A FRESH PRODUCT AND ONLY HAS A 3 MONTH SHELF LIFE! FYI!