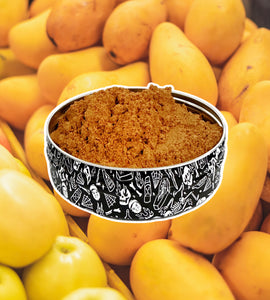 SUMMER AIN'T OVER AND BBQ IS FOREVER!
 WE'VE BEEN PLAYING IN THE KITCHEN. THIS IS A SWEET, FRUITY TROPICAL GLAZING RUB. IT'S FUNKY AS HELL AND WE WANNA KNOW WHAT YOU THINK. FOR FANS OF OUR ORIGINAL MANGO GRILLA, THIS IS LIKE THAT BUT COURSER.
MY FAVOURITE WAY IS TO CHUCK IT ON CHICKEN OR PORK WITH A SPLASH OF OIL. LET IT MARINADE BEFORE GRILLING (INDIRECT MOSTLY CUZ IT'LL BURN IF YOU'RE A ROOKIE). OR TRY SMOKING IT. OR AIR FRYER. WHAT EVER YOU WANT! JUST LET US KNOW WHAT YOU THINK - TASTE, SMELL, TEXTURE AND HOW IT SURVIVES THE COOKING PROCESS.
THANKS, 
TOM AND TEAM.