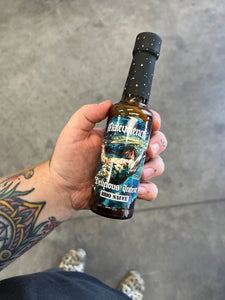 WATCH ME STEP INTO HELL WITH DELICIOUS INTENT!!!
IT'S AN HONOUR TO WORK WITH THE STEEL CITY SHRED LORDS, A BAND WE GENUINELY LOVE & LISTEN TO A LOT IN THE TUBBY KITCHEN.
THIS TIME WE SWITCHED IT UP TO MAKE A BBQ SAUCE - LACED WITH BULLIET BOURBON AND DASHED WITH SUPER STICKY CHERRY COLA! WHAT A BANGER. TASTES SO GOOD ON PRETTY MUCH EVERYTHING. GET SOME NUGS AND DIP EM, LET'S STOP MESSING ABOUT.
GET 'EM QUICK CUZ THERE'S ONLY LIMITED NUMBERS AVAILABLE.
Nutritional Info
Vegan Friendly / Allergens: BARLEY.