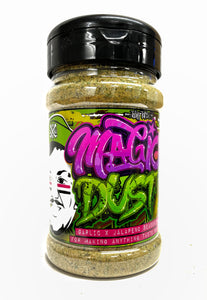 TAKE THIS EVERYWHERE / DEATH TO BLAND FOOD!
 A SUPER HIT FROM OUR TUBB CLUB BOXES, STILL MILD BUT HAS AN AWESOME JALAPENO FLAVOUR & KICK. 
WE TREKED THE DARKEST FLORIDIAN SWAMP LANDS AND TRADED SENSUAL MASSAGES FOR CULINARY SECRETS. KEEP THIS IS IN THE CUPBOARD AT ALL TIMES. IT MAGICALLY TRANSPORTS ANY DISH TO PLEASURE TOWN. ESPECIALLY ANYTHING DEEP FRIED OR CRISPY.
GO NUTS WITH IT. SEASON UP YOUR CRISPY GATOR TOES, TATER TOTS, OR TAKE YOUR PASTA BAKES TO THE NEXT LEVEL, SPRINKLE TO MAKE A CRUST! SEASON EGGS, BEANS, MASH POTATO. USE AS A CHICKEN RUB FOR MAX PLEASURE! ALSO OBVIOUSLY GREAT ON HOT CHIPS, FRIED CHICKEN ETC. JUST SPRINKLE AWAY AND LET THE MAGIC HAPPEN! 

Nutritional Info:
Vegan Friendly / No Major Allergens / Contains Monosodium Glutamate
 Ingredients (Allergens in Bold) : Garlic, Jalapeno, Onion, Salt, Sugar, Yeast, Herbs, Monosodium Glutamate, Turmeric, Black Pepper, Lime Oil. 
Storage: Store in a cool, dark place. Once opened use within 2 weeks re-seal after each use. This is like magical powder, it's very fine. This means it can be susceptible to clumping if exposed to steam, high temperatures etc so use sensibly. Use ya fingers to break up the clumps if needed.