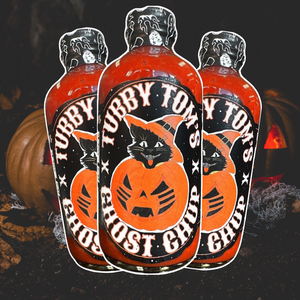 ONE FOR THE SPICE FREAKS! A NICE DOSE OF TINGLE!
WE LOVE MAKING KETCHUPS - WE'VE MADE A SMOKEY CHIPOTLE ONE, A CUBAN DEPTHY FRESH ONE AND NOOOOOOOOW WE HAVE A STRAIGHT UP SPICY ONE!
BIG ON TOMATO, BIG ON HEAT BUT WITH A DELICIOUS BALANCE. YOU CAN ACTUALLY USE THIS PRODUCT! IT AIN'T GUNNA BLOW YOUR BRAINS OUT.  

Nutritional Info
Vegan Friendly / Allergens: GLUTEN, CELERY
Ingredients (Allergens in Bold); Distilled Malt Vinegar (Gluten), Tomatoes, Cider Vinegar, White Wine Vinegar, Sugar, Salt, Onion, Garlic, Celery Salt (CELERY), Black Pepper, Beetroot, Ghost Chilli, Ghost Chilli Mash (Chilli, Acetic Acid, Salt), Xanthan Gum.