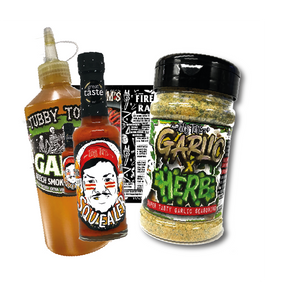 MY MUM USED TO MAKE RATATOUILLE, IT WAS NASTY. SOZ MUM
TIME TO FLIP THOSE MEMORIES UPSIDE DOWN! ENDLESS THANKS FOR EVERYTHING MUM BUT THAT DISH WAS BAD. WASN'T UNTIL MY LATE 20'S WHEN I COULD BRING MYSELF TO TRY IT AGAIN. ALSO THE FILM RATATOUILLE HELPED. TURNS OUT IT'S AWESOME! LOADSA VEG, HEALTHY!
INCLUDED: 
1 X SQUEALER - AWARD WINNING GARLIC X TOMATO HOT SAUCE
1 X GARLIC X HERB RUB SHAKER
1 X GARLIC SMOKED RAPESEED OIL (NOT ON RECIPE, JUST SUB OUT THE OLIVE OIL... CUZ.. FLAVA).
1 X RECIPE CARD TO FOLLOW. 
 YOU WILL BE ABLE TO MAKE THIS RECIPE ABOUT 100 TIMES OVER WITH THE GOODS IN THIS BUNDLE.
ENJOY! AND REMEMBER TO POST YA PICS!
xxxx