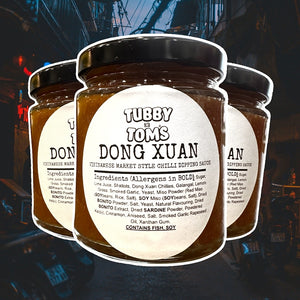 VIETNAMESE CHILLIES BUT LOCALLY GROWN!
WE GOT THESE AMAZING CHILLIES FROM A LOCAL GROWER AT A FOOD MARKET AND THEY PACK SO MUCH FLAVOUR!
THEY'RE CALLED DONG XUAN CHILLIES AND LEND THEMSELVES PERFECTLY TO A CHILLI DIPPING SAUCE. WE COMBINED THEM WITH DELICIOUS AROMATICS SUCH AS LEMONGRASS, ANISE, MISO AND MOST IMPORTANTLY FISH!!!
THIS IS NOT A VEGAN SAUCE, SOZ FRIENDS. BUT IT IS FUNKY AND DELICIOUS. IT'S SWEET, WITH A MILD KICK AND YOU CAN USE IT WITH ANYTHING! ANYTHING YOU FANCY DIPPING IN IT WITH WORK, SPRING ROLLS, CRACKERS, OREOS, YOU NAME IT!
BTW IT'S NOT VEGAN!
Ingredients (Allergens in Bold): Sugar,
Lime Juice, Shallots, Dong Xuan Chillies, Galangal, Lemon
Grass, Smoked Garlic, Yeast, Miso Powder (Red Miso
(SOYbeans, Rice, Salt), SOY Miso (SOYbeans, Salt), Dried
BONITO Powder, Salt, Yeast, Natural Flavouring, Dried
BONITO Extract, Dried SARDINE Powder, Powdered
Kelp)), Cinnamon, Aniseed, Salt, Smoked Garlic Rapeseed
Oil, Xanthan Gum.
CONTAINS FISH, SOY