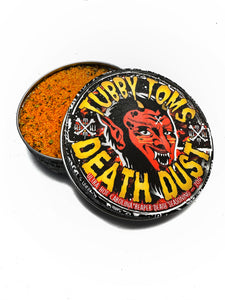 OUR HOTTEST SEASONING EVER!!
MADE WITH ONE OF THE WORLD'S HOTTEST CHILLIES; THE CAROLINA REAPER. IT'S REALLY HORRIBLE TO MAKE, EVEN WITH PROTECTION IT STILL KILLS US.
 USE IT TO ADD FIRE TO ANY DISH WITH JUST A TINY SPRINKLE. KEEP IT IN YOUR BODY BAG FOR ALL OCCASSIONS AND NEVER HAVE TO SUFFER BLAND FOOD AGAIN!
WARNING: DO NOT GET IN CONTACT WITH EYES OR SKIN, CONSUME AT OWN RISK.
 Ingredients (Allergens in Bold); Salt, Cornmeal, Chilli, Garlic, Onion, Pepper, Spices, Herbs.