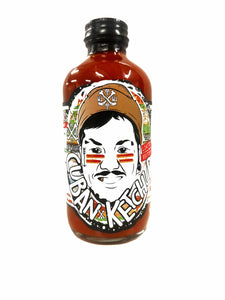 FRESH SPICY KETCHUP READY TO PIMP UP YOUR BREAKFAST!
THIS IS A SPECIAL HOMESTYLE KETCHUP, ONE FOR LOVERS OF MEDIUM HEAT AND HEAVY TANG! 
EPIC WITH BREAKFASTS, BRUNCHES, BURGS AND DAWGS. LITERALLY EVERYTHING.
I'VE NEVER BOTHERED TRYING TO SELL A KETCHUP CUZ HEINZ KINDA RULES AT IT. BUT THEN I REALISED WE CAN STILL MAKE IT BETTER THAN THEM - I WANTED A RICH TOMATO SAUCE WITH VINEGAR TANG BUT WITH ROASTED SPICES, HOT CHILLI AND GOOD DEPTH OF FLAVOUR. SOMETHING MORE THAN WHAT YOU CAN GET IN THE SHOPS. 
WE THINK IT'S PRETTY SPECIAL, LET US KNOW WHAT YOU THINK! 
  Ingredients (Allergens in Bold); Tomato, Water, Distilled Malt Vinegar (Barley), Cider Vinegar, White Wine Vinegar, Sugar, Chilli, Onion, Salt, Garlic, Cumin, CELERY, Pepper, Coriander, Smoked Maltodextrin, Xanthan Gum