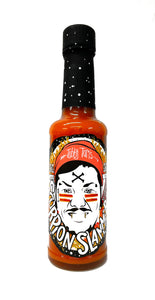 WARNING: SUPER SUPER HOT / INTENSE HEAT & SMOKEY FLAVOUR 
I actually don't love scorpion chillies, the first time I ate some raw I was at a party and had to lock myself in a toilet, I stripped off and prayed to the capsaicin god for 3 hours non-stop before I stopped sweating and shaking. I was not ready.

Capsaicin god granted me permission to use the chillies so once I was blessed I decided to make a super hot sauce to honour the scorpion chilli. This is it.
Essentially a super hot table condiment - great for adding heat and acidity to food. Makes butt clenching hot wings, but also works when adding heat to a chilli con carne.
Nutritional Info

Vegan Friendly / No Major Allergens 
Ingredients (Allergens in Bold) : Red Wine Vinegar, Chillies, Sugar, Salt, Onion, Red Pepper, Garlic, Smoked Maltodextrin.