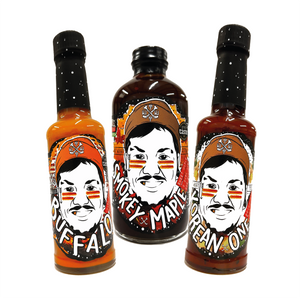 WE BAGGED A COUPLE OF AWARDS THIS YEAR FOR OUR SAUCES. HERE'S A BUNDLE OF THE WINNERS FOR YOU TO PERUSE!
THREE VERY DIFFERENT SAUCES, A HOT SAUCE FOR ANY TIME OF DAY OR NIGHT, A SMOKEY GLAZE FOR BBQING AND A DELICIOUS DEPTHY KOREAN GLAZE FOR MIDWEEK MEALS, FRIED CHICKEN AND BBQ.
INCLUDED: 
1 X BUFFALO - OUR AWARD-WINNING ORIGINAL BUFFALO HOT SAUCE
1 X SMOKEY MAPLE BBQ - AWARD-WINNING ALE X CANADIAN MAPLE SAUCE
1 X KOREAN ONE - GOCHUJANG X SESAME HOT GLAZE
 Enjoy! And remember to tag us in ya pics!