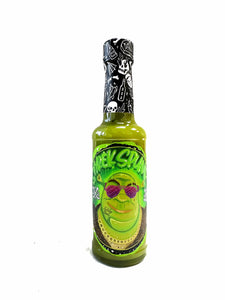 VERY LIMITED! BUY IT BEFORE WE GET COMPLAINTS FROM MUMSNET
oh sheit, you've accidentally entered some
sort of sacred swamp. panic sets in, when
suddenly u sense something breathing
on the back of ur neck. it's shrek.
who actually isn't that mad about
you tresspassing. he invites u back to his
pit for a candle lit dinner, u have no
choice but to accept. after three
courses of swamp gruel you sense
him eyeing you up, you look
up to see him smirking wildly. he's
saved the best course for last,
freshly made dessert.
THIS SAUCE IS DELICIOUS, FORGET THE NAME, I STUPIDLY LET INSTAGRAM DECIDE WHAT TO CALL IT! IT'S A SWEET TANGY APPLE SAUCE - TASTES LIKE THOSE OLD FASHIONED ROSEY APPLE SWEETS! SO GOOD! 
WOULD RULE WITH ROAST PORK! OR TACOS!
Nutritional Info
Vegan Friendly / Allergens: MUSTARD, WHEAT.
Ingredients (Allergens in Bold) : Aji Amarillo Chili Peppers, Distilled Malt Vinegar (Barley), Onion, Garlic, Yeast, Mustard Powder (Mustard), Water, Salt, Spices, Xanthan Gum.