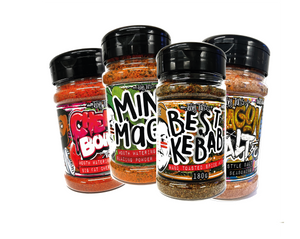 SO MANY TO CHOOSE FROM! GET A COMBO DEAL BY GRABBING FOUR FOR £35
WE AIN'T SHY OK! WE MAKE A LOT OF KILLER SEASONINGS, THEY'RE ALL EPIC. THEY'RE ALL ALSO GOOD FOR DIFFERENT THINGS AND A LOT OF THEM ARE ACTUALLY GREAT FOR USING ON EVERYTHING. I'M TALKING CHIP DUSTS, MEAT RUBS, SEASONING FOR COOKING, PLAYTIME ON YA BIRTHDAY, EVERYTHING!
INCLUDED: 
4 X SEASONING SHAKERS OF YOUR CHOICE! IF YOU LEAVE THE ITEMS BLANK IT'LL DEFAULT TO 4 OF THE SAME. SO DON'T DO THAT.
ENJOY! AND REMEMBER TO POST YA PICS!