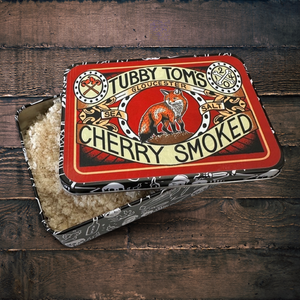 STRAIGHT OUTTA THE TUBBY SMOKER!
IT'S NO SECRET THAT WE LOVING SMOKING STUFF AT TUBBY HQ.
WE FINALLY INVESTED IN A LARGER SMOKER SO WE'RE DOING BATCHES OF OUR WOOD SMOKED SEA SALT TO SELL. THIS TIME THEY'RE IN LARGER 200G TINS AND THEY'RE SO AWESOME.
CHERRY WOOD SMOKED
CHERRY IS A FRUIT WOOD AND IN THEORY, WOOD FROM TREES THAT BEAR FRUIT SHOULD HAVE THE LIGHTEST FLAVOURS HOWEVER WE FOUND THE CHERRY GAVE AN AMAZINGLY RICH FLAVOUR BUT ALSO INTENSE COLOUR TO THE SALT!
IT'S SLIGHTLY FRUITY WITH A MEDIUM STRENGTH SMOKINESS AND LENDS ITSELF REALLY WELL TO GAME LIKE DUCK AND VENISON BUT ALSO FOR CLASSIC PORK AND BEEF AND LAMB. 
THIS SALT CAN BE USED AS A CRUNCHY FINISHING SALT FOR YOUR FOOD, FOR SEASONING UP SLOW COOKED MEATS OR ANYTHING ON THE GRILL AND IT CAN EVEN BE USED TO MAKE THE SMOKIEST HOMEMADE POPCORN IN THE UNIVERSE!
THE TINS ARE ALSO VERY VERY RAD. SO YOU'LL WANT TO KEEP THEM AS STASH TINS! 

Show us how you like to use it!