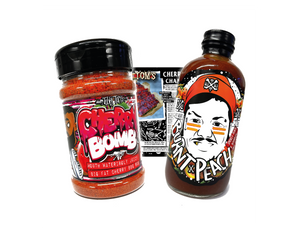 PERFECT LITTLE CANDIED STRIPS OF PORK ON THE BONE. DELISH
INSPIRED BY THE U.S COMP RIBS, MY BUDDY SHANE MCBAGLEY SHOWED ME HOW TO DO 'EM. HE'S 100% GENUINE AMERICAN GRILL MASTER SO YA KNOW. REAL DEAL YA HEARD!!!!
INCLUDED: 
1 X BURNT PEACH BOURBON BBQ STUBBY GLAZE
1 X CHERRY BOMB RIB TICKLER SEASONING
1 X RECIPE CARD TO FOLLOW
ENJOY! AND REMEMBER TO POST YA PICS!
xxxxxxx