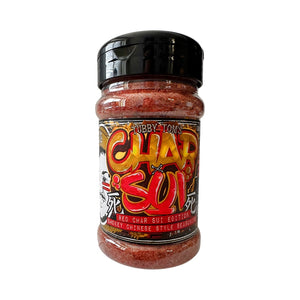 IF YOU'VE TRIED OUR DRAGON SALT YOU'LL LOVE THIS ONE!
WE HAVE A PRODUCT CALLED PINK DRAGON SALT WHICH IS SPICIER AND SMOKIER THAN OUR ORIGINAL DRAGON SALT. WE DECIDED TO HONE IN ON IT AND REVAMP IT INTO IT'S OWN THING.
WE'VE STRIPPED THE GHOST CHILLI DOWN, ADDED OUR FAVOURITE RED FOOD COLOURING FOR THAT ALMIGHTY COLOUR POP AND WE'VE ADDED A LICK OF SMOKE TO IT! IT'S SO SO GOOD! 
Nutritional Info:
Vegan Friendly / No Major Allergens
 INGREDIENTS (ALLERGENS IN BOLD); SEA SALT, MONOSODIUM GLUTAMATE, SUGAR, GARLIC, CHILLI, CINNAMON, SMOKED FENNEL, ANISE, BEET, CLOVE, SZECHUAN PEPPER, RED FOOD COLOURING (E129 ALLURA RED, E122 CARMISINE, E102 TARTRAZINE), SMOKED MALTODEXTRIN.
Storage: Store in a cool, dark place. Once opened use within 2 weeks re-seal after each use. This is like magical powder, it's very fine. This means it can be susceptible to clumping if exposed to steam, high temperatures etc so use sensibly. Use ya fingers to break up the clumps if needed.