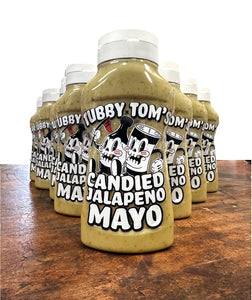 IF U KNOW, U KNOW. THE HONEST BURGER CREATION IS NOW AVAILABLE FOR YOU TO EAT AT HOME!
EARLIER THIS YEAR WE TEAMED UP WITH HONEST BURGER AND THEY USED OUR CANDIED JALAPENOS TO CREATE AN AMAZING MAYO FOR BURGERS!
NOW YOU CAN BUY SOME! IT'S SO TASTY, SAVOURY WITH A MILD JALAPENO HEAT. IT LITERALLY GOES ON EVERYTHING - AS A DIP! 
ALSO REMINDS ME OF AN ALABAMA WHITE BBQ SAUCE CUZ IT'S FRESH AND ZINGY BUT CREAMY TOO!
BTW IT'S VEGAN!