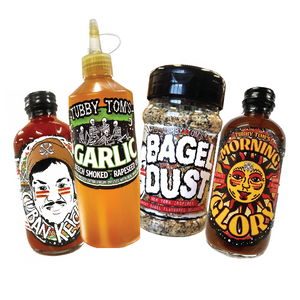 AKA THE WEEKEND BOX! TREAT YA SELF TO A NEXT LEVEL BREAKFAST, YOU DESERVE IT!
THIS BUNDLE HAS EVERYTHING YOU NEED TO MAKE EPIC HOMEMADE BRUNCHES & BREAKFASTS! 
TRY SMASHED AVO ON TOAST WITH OUR BAGEL DUST ON TOP. TRY MAKING A HOMEMADE MCMUFFIN! GET SOME SAUSAGE MEAT, MAKE A PATTY & FRY IT OFF. STUFF INTO AN ENGLISH MUFFIN WITH EGG, SHIT CHEESE AND SOME CHIPOTLE KETCHUP!
INCLUDED: 
1 X MORNING GLORY BROWN SAUCE
1 X SMOKED GARLIC OIL
1 X CUBAN KETCHUP
1 X BAGEL DUST SEASONING SHAKER
 Enjoy! And remember to tag us in ya pics!