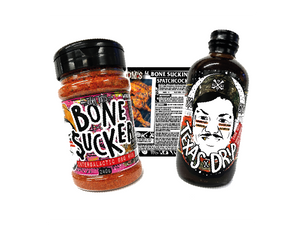 SLASH THE COOKING TIME IN HALF BY SPATCHCOCKING YA CHICKEN! DO 2 AT A TIME CUZ IF U DO ONE YOU'LL EAT IT TOO QUICK AND THEN BE WANTIN MORE WHERE THERE AIN'T MORE, YOU FEEL ME?
FEED ALL YA MATES 'N THEN THEY CAN ALL OWE U FAVOURS, HEHE. IF YOU'RE PUSHED FOR TIME CHUCK IT ON THE GAS GRILL, OR EVEN OVEN COOK - JUST KEEP AN EYE TO STOP IT CATCHING AND BURNING. COVER WITH FOIL AND KEEP JUICY. 
INCLUDED: 
1 X TEXAS DRIP SUPERCHARGED BIG BOLD BBQ SAUCE STUBBY
1 X BONE SUCKER INTERGALACTIC BBQ RUB
1 X RECIPE CARD TO FOLLOW. 
ENJOY! AND REMEMBER TO POST YA PICS!
xxxxx