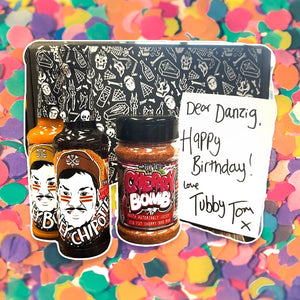 THE PERFECT GIFT! A MIX OF OUR WORLD FAMOUS SAUCES AND SEASONINGS!
SELECT YOUR FAVOURITE SAUCES AND DUST AND WE'LL CHUCK IT IN A BOX WITH A BESPOKE HANDWRITTEN MESSAGE FROM ME AKA TUBBY TOM AKA WORLD'S HANDSOMEST.
REMEMBER TO INCLUDE YOUR MESSAGE IN THE ORDER NOTES AT CHECKOUT! & MAKE YOUR CHOICES BELOW
INCLUDED: 
 2 X 150ML SAUCES
1 X 200G SEASONING SHAKERS
1 X HANDWRITTEN MESSAGE
ENJOY! AND REMEMBER TO POST YA PICS!