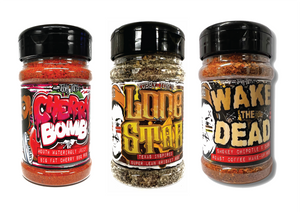 BBQ SEASON IS EVERY SEASON! / SOMETHING FOR ALL MEATS!
Three essential, hand crafted rubs straight from the multi-award winning Tubby kitchen. 

You've tried our classic BBQ rubs, you love them and now you want more! These all go the extra mile in terms of extra flavour. Great for low and slow style cooking but also rock hard on the grill.
Cherry Bomb : our special edition rib rub! Fruity with an out-of-this-world pink glow! Made for sweet ribs & chicken but also bangs hard on pork belly burnt ends!
Wake the Dead : if a rich, earthy coffee rub that takes all kinds of beef to another dimension. Try with onglet, pichana, short ribs and brisket!
Lone Star :  when you want the natural flavours of the meat & cooking fuel to sing! Use this heavy pepper rub - made with our own smoked salt. Ideal for briskets but my favourite is baby back ribs, hot and fast! So good!