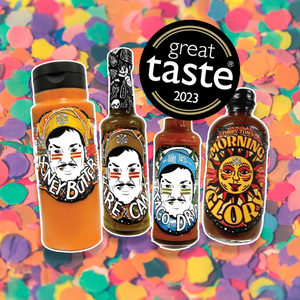 WE BAGGED A COUPLE OF AWARDS THIS YEAR FOR OUR SAUCES. HERE'S A BUNDLE OF THE WINNERS FOR YOU TO PERUSE!
INCLUDED: 
1 X HONEY BUTTER BUFFALO - OUR AWARD-WINNING ORIGINAL LUXURY BUFFALO HOT SAUCE (150G REGULAR BOTTLE, NOT A SQUEEZIE LIKE IN THE PICCY ABOVE)
1 X MORNING GLORY  - AWARD-WINNING BROWN SAUCE
1 X TACO DRIP - AWARD-WINNING CITRUS BLAST HOT SAUCE
1 X FIRE CANDY - AWARD-WINNING CANDIED JALAPENO HOT SAUCE
 Enjoy! And remember to tag us in ya pics!