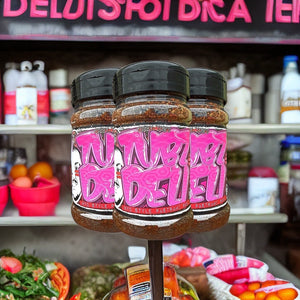 TASTE OF NEW YORK IN THE COMFORT OF YA OWN HOME
 WE ALL SEEN THE DOCS ON KATZ DELI IN NEW YORK. IT LOOKS SO DREAMY AND I'D LOVE TO GO. I AIN'T RICH. I'LL HAVE TO USE MY IMAGINATION FOR NOW AND USE THIS RUB ON SOME TASTY BRISKET. I'VE CHUCKED SOME RECIPES BELOW FOR YOU TO FOLLOW, WHETHER YOU HAVE A SMOKER, SLOW COOKER OR EVEN AN AIR FRYER!
ALL YOU GOTTA DO IS BRINE YA BRISKET, PULL IT OUT AND RUB IT. SMOKE IT. SLICE IT AND STUFF IT INTO BREAD. DIVINE. IF YOU DON'T HAVE A SMOKER, YOU CAN ALSO DO IT IN YA OVEN OR SLOW COOKER - JUST WON'T HAVE THE SMOKINESS AND BARK!
ALSO WORKS SO WELL ON STEAKS, SHORT RIBS, CHICKEN. GIVE IT A TRY! SERIOUSLY!
 RECIPE FOR THE SMOKER;
BRINE YOUR BRISKET FOR 3 DAYS IN THE FRIDGE USING A SIMPLE WET BRINE OF SALTY WATER. CHECK THE WEIGHT OF YOUR BRISKET AND LOOK ONLINE FOR THE CORRECT RATIO OF SALT TO WATER FOR THAT WEIGHT.
AFTER THREE DAYS, PULL IT OUT, PAT IT DRY BEFORE RUBBING ALL OVER WITH THE SPICE RUB.
SMOKE LOW AND SLOW UNTIL THE INT. TEMP REACHES 90 DEGREES. YOU'RE WELCOME TO SPRITZ AS YOU GO, TO BUILD BARK. JUST USE APPLE CIDER VINEGAR. YOU CAN ALSO WRAP AT AROUND 75 DEGREES AND CRANK THE HEAT UP! 
 RECIPE FOR AIR FRYER;
YOU CAN ALSO USE THIS RUB FOR CHICKEN! IT TASTES SO GOOD - SAVOURY, EARTHY AND DELICIOUS. 
GET SOME BONELESS SKINLESS CHICKEN THIGHS, OIL AND RUB THEM BEFORE AIR FRYING. I LIKE TO AIR FRY ON A LOWER TEMP FOR 15 MINS, THEN CRANK UP THE HEAT FOR A FURTHER 10 (OR UNTIL INT. TEMP IS 85.). YOU CAN SPRITZ WITH CIDER VINEGAR IF YOU WANT. MAKES IT NICER. SERVE WITH PICKLES, CHILLIES.
RECIPE FOR SLOW COOKER;
GET SOME BEEF CHEEKS, OIL AND RUB THEM BEFORE CHUCKING IN THE AIR FRYER WITH A BIG GLUG OF WATER AND APPLE JUICE. LET 'EM SLOW COOK ALL DAY UNTIL THEY FALL APART AND LOAD UP SOME SANDWICHES WITH EMMENTAL CHEESE, PICKLES, MUSTARD AND SALAD. BOOM.
Nutritional Info
Vegan Friendly / Allergens: Sugar, Coffee, Roasted MUSTARD, CELERY salt, Coriander, Pepper, Smoked Salt, Charcoal, Chilli, Smoked Paprika, Korean Gochugaru Chilli.