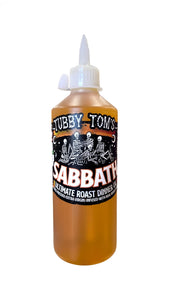 YOUR NEW KITCHEN STAPLE! WE CANNOT LIVE WITHOUT THIS NOW!!!
THIS IS SOMETHING WE USE IN A LOT OF OUR TUBBY SAUCES, WE SELL A LOT OF IT TO RESTAURANTS & STREET FOOD PPL. NOW IT'S AVAILABLE TO U GUYS TOO. 
12 HOUR BEECHWOOD SMOKED RAPESEED OIL INFUSED WITH RICH GARLIC, ROSEMARY AND BASIL. ONCE YOU USE THIS YOU'LL NEVER GO BACK. WE USE IT EVERY TIME WE MAKE CHILLI CON CARNE, STEWS, CURRIES, FRY UPS, ANYTHING THAT'S GOING ON THE GRILL GET SLAPPED WITH IT, MAKES EPIC EPIC HOMEMADE MAYO. 
WE DID TRIAL SELLING IT IN THE STUBBY BOTTLES BUT THE OIL KINDA RAN DOWN THE SIDES PLUS YOU END UP USING IT SO QUICK! SO NOW WE'VE STUCK TO SQUEEZIE WITH NOZZLES AND REFILL JERRYS! THE MORE YOU BUY THE CHEAPER IT IS! NOW YOU DON'T EVER HAVE TO RUN OUT! 
WE'RE LOOKING AT MAKING A REFILL STATION AT TUBBY HQ FOR OUR FUTURE MARKETS, YOU'LL BE ABLE TO BUY IT WITH YOUR OWN VESSELS OR BRING YOUR OLD JERRY CANS IN FOR US TO FILL UP! IT'S GUNNA BE RAD!!!!!!
let us know your favourite way to use it! Drop us a message sometime