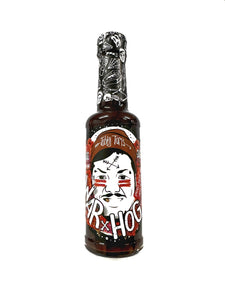 RON SWANSON'S FAVOURITE BBQ SAUCE! MAPLE BACON FLAVOUR!


IF YOU'RE A LOVER OF FRY UP BREAKFASTS OR EVEN JUST THE SALTY, TASTY CRUNCH OF DELICIOUS BACON & MAPLE SYRUP YOU'LL GO APE SHITE OVER THIS ONE! 
OUR EPIC HOMESTYLE BBQ SAUCE, BOOSTED WITH BACON FLAVOUR! SO EPIC WITH BRUNCHES, BURGERS, DAWGS, ON YA MUMMA!
vegan friendly!
Ingredients (Allergens in Bold) : Brown Sugar, Tomato Sauce, Vinegar, Coffee, Water, Bacon Dust (Maltodextrin, Yeast Extract, Maize Starch, Sugar, Spices (paprika, Pimento), Garlic Powder, Caramelised Sugar Powder, Onion Powder, Flavouring, Natural Flavouring, Hydrolysed Vegetable Protein, Smoked Salt, Paprika Extract), Worcestershire Sauce, Black Pepper, Mustard Powder, Canola Oil, Yeast, Dried Red Chillies, Yeast Extract Spread, Xanthan Gum (E415).