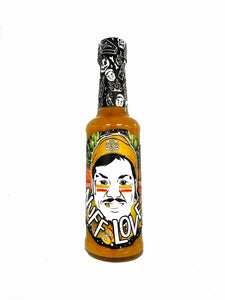 JUICY TROPICAL PINEAPPLE / FIERY HOT SCOTCH BONNET PERFECT JERK GLAZE
THIS JUICY HOT SAUCE MAKE THE TASTIEST EVER GLAZE FOR JERK CHICKEN AND PORK. WE SMOKED A LOAD OF PORK BELLY RUBBED IN OUR BAM BAM JERK SEASONING AND GLAZED WITH THIS SAUCE! IT SMACKS FLAVOUR AND FRESHNESS
We once made 500kg of this for a restaurant chain, then they fucked us over by not paying us. That was a lot of pineapple. It does go really well with pizza, especially pizza with shredded roast pork.
Nutritional Info
Vegan Friendly / No Major Allergens
Ingredients (Allergens in Bold); White Wine Vinegar, Pineapple, Yellow Pepper, Sugar, Onions, Scotch Bonnets, Olive Oil, Tomato, Garlic, Smoked Paprika, Salt, Pepper, Spices Xanthan Gum, Natural Flavouring.