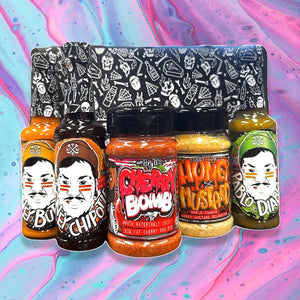 THE PERFECT GIFT! A MIX OF OUR WORLD FAMOUS SAUCES AND SEASONINGS!
WE MAKE A LOT OF GOOD STUFF! THIS'LL HELP YOU CHOOSE A FEW BITS TO POP TOGETHER IN A BOX - THE IDEAL GIFT OR JUST TREAT YOUR SELF ! USE THE DROP DOWN MENU BELOW TO PICK YOUR CHOICES

INCLUDED: 
 3 X 150ML SAUCES
2 X 200G SEASONING SHAKERS
ENJOY! AND REMEMBER TO POST YA PICS!