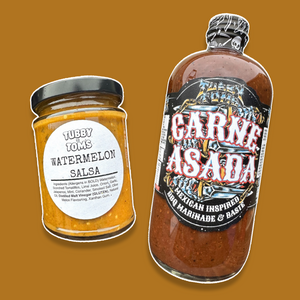 JUICY SALSA & HEAVY MARINADE IS WHAT WE'RE ABOUT!
A COOKING COMBO FOR USING IN THE AIR FRYER, SLOW COOKER OR ON THE GRILL. WE GOT YOU COVERED! RECIPE IDEAS BELOW!
 WE BRING YOU AN ULTIMATE COOKING COMBO FOR YOUR WINTER WARMING MEALS! MAKE YOURSELF A DELCIOUS TACO OR BURRITO FROM THE COMFORT OF YOUR HOME THAT'LL TRANSPORT YOUR TASTEBUDS ACROSS THE WORLD TO THE BEAUTIFUL MEXICO.
 OUR CARNE ASADA SAUCE CAME ABOUT WHEN I MARINADED A HUGE SKIRT STEAK AND GRILLED IT OFF FOR MY MATES WHEN WE HAD A 'BARN RAISING' FOR MY BBQ AREA. THEY LOVED IT! IT WAS JUICY, SUPER TASTY AND THE FLAMES FROM THE GRILL SCORCHED IT FOR CRISPY BARK. I GOT SO EXCITED I DECIDED TO MAKE A BATCH AT WORK AND OFFER IT TO YOU LOT! 
IT'S A DELICIOUS MARINADE, PACKED WITH CHARRED CITRUS, FRESH HERBS, ANCIENT MEXICAN CHILLIES - JUST BUY A SKIRT STEAK, PORK BELLY OR ANY OTHER KIND OF MEAT (I'VE EVEN DONE A RACK OF LAMB!) LET IT MARINADE OVER NIGHT, THEN GRILL OR FRY OR ROAST - HOWEVER YOU WANNA COOK YA STUFF! THE KEY IS - FOR LARGE CUTS YOU WANNA GO LOW AND SLOW AND REVERSE SEAR IT. FOR THIN CUTS LIKE SKIRT STEAK OR CHICKEN THIGHS, OR PORK BELLY, YOU WANNA GO STRAIGHT INTO A HOT COOK! I LIKE TO COOK MINE ON THE GRILL OVER FIRE. 
THE KEY IS TO KEEP BASTING THE MEAT WHILE IT COOKS, IT'LL CHAR, IT'LL LOOK GNARLY BUT THAT'S WHAT WE WANT. KEEP AN EYE ON IT AND GET THE BALANCE.
SERVE IN TACOS WITH A DOLLOP OF OUR WATERMELON SALSA, FRESH ONION, FRESH CHILLIES AND HERBS. YOU COULD FINISH WITH A DRIZZLE OF OUR CANDIED JALAPENO MAYO TOO, IF IT'S IN STOCK AT THE TIME. 
WE LOVE SALSA AND WE LOVE WATERMELON, SO WE DECIDED TO MAKE A FRESH BATCH OF LIGHT, CLEAN, TASTY SALSA TO ACCOMPANY OUR NEW CARNE ASADA MARINADE! IT BRINGS THE BALANCE OF FRESHNESS, WITH LIGHT JUICY WATERMELON, SCORCHED EARTHY TOMATILLOS AND THE ROUNDED HERBY NOTES FROM MINT AND CORIANDER. 
ALL THE BEST SALSAS HAVE TOMATILLOS, WE WENT THE EXTRA STEP TO BLISTER AND SCORCH THE SKINS, IT RELEASES A WHOLE HEAP OF DEPTHYNESS AND MAKES FOR AN EPIC SALSA.
USE ON TOP OF TACOS, ON THE SIDE OF FAJITAS. DUNK YA BURRITO IN IT. OR LAYER IT INTO A QUESADILLA. 
 RECIPE FOR THE AIR FRYER
I LIKE TO GET BONELESS SKINLESS CHICKEN THIGHS, MARINADE OVER NIGHT BEFORE AIR FRYING ON A LOWER SETTING FOR 15 MINS. I THEN BASTE THE CHICKEN AND TURN THE HEAT UP FOR ANOTHER 10 MINS TO GET THAT CRISPY EDGE! JUST TAKE IT OUT, LET IT REST BEFORE SLICING UP INTO TACOS OR STUFF INTO A BURRITO WITH BEANS, RICE, SALSA.
RECIPE FOR THE GRILL
I LOVE THIS MARINADE ON SKIRT STEAK - JUST LET IT MARINADE OVER NIGHT BEFORE LAUNCHING ONTO A RIPPING HOT GRILL (CAN BE GAS OR COAL). LET IT PICK UP CHAR BEFORE FLIPPING AND BASTING. BASTE AS MUCH AS YOU CAN. THEN TAKE IT OFF, LET IT REST FOR 5 MINUTES FOR THE JUICES TO BE RETAINED, THEN SLICE AGAINST THE GRAIN FOR EPIC TACOS.
RECIPE FOR SLOW COOKER
TRY A SMALL PORK SHOULDER OR PORK BELLY. MARINADE OVER NIGHT BEFORE CHUCKING IT (AND THE MARINADE) INTO THE SLOW COOKER AND LEAVE COOKING ALL DAY. YOU MAY NEED TO ADD SOME ORANGE JUICE OR APPLE JUICE OR EVEN JUST SOME WATER OR A FANTA TO TOP UP THE LIQUID. LET IT COOK SUPER SLOW ALL DAY AND IT'LL PULL LIKE YOUR WEDDING NIGHT. SERVE WITH RICE AND BEANS OR CHUCK IN TACOS OR WRAPS. TOP WITH SALSA.
Nutritional Info
Vegan Friendly
SALSA Ingredients (Allergens in Bold) : Watermelon, Tomatillo, Lime, Onion, Garlic, Distilled Malt Vinegar (GLUTEN), Salt, Jalapenos, Olive Oil, Natural Flavouring, Mint, Coriander, Xanthan Gum. 
 MARINADE Ingredients (Allergens in Bold) : Chillies (Guajillo, Ancho, Chipotle, Pasilla), Onion, Garlic, Orange, Lime, Grapefruit, Lemon, Cumin, Coriander, Salt, Distilled Malt Vinegar (GLUTEN), Bay Leaf, Paprika, Yeast, Monosidum Glutamate, Red Food Colouring (Artificial E numbers), Smoked Maltodextrin, Xanthan Gum, Smoked Rapeseed Oil.