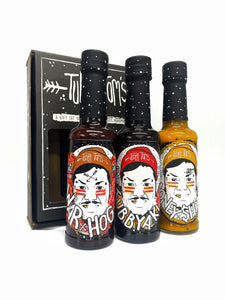 LISTEN UP VULCANS, YOUR ULTIMATE COMBO SET IS LIVE NOW! 
A TRIPLE PACK OF OUR EPIC HANDMADE SAUCES, A MIXTURE OF HEAT LEVELS BUT ALL MAX FLAVOUR! THE RISE OF THE FLEXITARIANS IS NOW! LOADS OF MEAT EATERS ARE MASSIVELY REDUCING THEIR MEAT INTAKE AND LOADSA PEOPLE ARE MAKING MORE ENVIRONMENTAL CHOICES WITH THEIR DIET. THIS AIN'T STRICTLY FOR VEGANS, BUT IT ALL TASTES WICKED WITH VEGAN FOOD. LET ME EXPLAIN BELOW.
THIS PACK CONTAINS;

1 X WAR HOG - SMOKEY VEGAN BACON BBQ SAUCE
THIS BBQ SAUCE IS EPIC WITH FACON (I RECOMMEND 'THIS' OR THE NEW RICHMOND VEGAN BACON CUZ IT LOOKS AND TASTES RAD) & SCRAMBLED TOFU BREAKFASTS. IT'S GREAT WITH VEGGIE SAUSAGES - I'D RECOMMEND THE NAKED GLORY ONES FOR A HERBY BANGER, OR THE RICHMOND ONES FOR PLAINER CUZ THEY TASTE LIKE ACTUAL RICHMOND BANGERS CUZ ACTUAL RICHMOND BANGERS HAVE FUCK ALL MEAT IN THEM ANYWAY.
1 X MONEY $HOT -SWEET MANGO X BLACK SESAME SAUCE
ORIGINALLY MADE FOR MY SHITTY HARDCORE BAND TO SELL AT SHOWS, THEN GOT PICKED UP BY THE HARVEY NICHOLS BUYER AND STARTED SELLING ALL OVER THE COUNTRY HA! WE LOVE THIS WITH FALAFEL WRAP - LOAD UP A THICK FLATBREAD WITH HOUMOUS, PICKLED PINK ONION, THINLY SLICED CABBAGE (RAW), LETTUCE, SHREDDED CARROT, FALAFEL, A HUGE DOLLOP OF THIS SAUCE (I LIKE TO CHUCK VEGAN GARLIC MAYO IN TOO) AND SPRINKLE WITH HOT CHILLI FLAKES.
ALSO BANGS VERY HARD WITH VEGAN CHICKEN CHUNKS (I RECOMMEND 'THIS' OR VIVERA). JUST FRY THEM SUPER HARD IN  A PAN UNTIL THEY START TO BROWN, CHUCK IN SOME SLICED ONION AND PEPPERS, TOSS IN OUR KEBAB RUB THEN GLAZE UP WITH MONEY SHOT, DUMP IN A PITTA WITH SALAD.
1 X TUBBYAKI - SMOKEY JAPANESE STYLE TERYAKI SAUCE
FRY OFF YOUR VEGAN CHICKEN PIECES OR SMOKED TOFU (I RECOMMEND TAFIN), BEFORE ADDING CHUNKY ONION AND PEPPER (PLEASE DONT OVER COOK, KEEP THEM CRUNCHY), TOSS DRAGON SALT IN, THEN GLAZE WITH TUBBYAKI BEFORE SERVING OVER RICE. 
ALSO MAKES AN AMAZING VEGAN RIB GLAZE, GREAT FOR STIR FRYS OF ALL KIND! 

Nutritional Info
Vegan Friendly, OBVS..