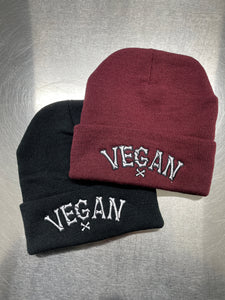 TELL EM STRAIGHT! WEAR THE BADGE OF HONOUR
VEGAN WARRIORS STEP FORWARD, THE TIME HAS COME TO PREACH WITH STYLE. WHEN THEY QUESTION U, STUFF A PIECE OF DRAGON SALTED CRISPY FRIED TOFU IN THEIR GOB & GIVE EM A SLAP.  
AVAILABLE IN BLACK OR BURGUNDY! STOCK LANDING EARLY JAN!