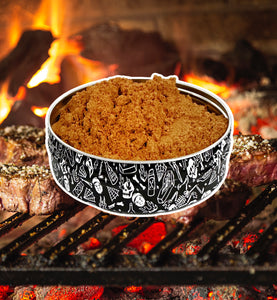 Lil' REWORK REVAMP TYPE OF THING!
WE'VE MADE STEAK HAUS FOR A REEEEALLY LONG TIME AND IT SELLS REALLY WELL. ONE OF THE FUNNY THINGS ABOUT IT IS THAT IT WAS NEVER INTENDED TO BE USED ON ACTUAL STEAKS. IT'S SUPPOSED TO BE USED TO ADD BEEFY FLAVOUR INTO YOUR COOKING. 
I MOSTLY USE IT IN SPAG BOL, CHILLI ETC, STUFF THAT HAS MINCE BEEF IN IT AND IT BUMPS THAT FLAVOUR LIKE CRAZY! 
HOWEVER.
A LOT OF YA'LL LOVE IT ON STEAKS AND USING IT ON MEATS AS A RUB. WE ALSO KNOW THAT IT CLUMPS PRETTY BAD CUZ IT'S SUCH A FINE POWDER TO ACHIEVE THAT FLAVOUR.
WE'VE HAD A PLAY, MADE A COURSE VERSION WITH DELICIOUS GRITTINESS, PORCINI MUSHROOM UMAMI AND NOW IT'S READY FOR YOU LOT TO TRY! 
USE IT THE SAME WAY YOU WOULD'VE NORMALLY - WE WANNA KNOW IF IT HITS THE SPOT FOR YOU! TRY IT ON STEAKS, TRY IT ON CHICKEN, TRY IT IN SPAG BOL AS A FLAVOUR BOOST AND LET US KNOW WHAT YOU THINK ABOUT THE RICH UMAMI FLAVOUR, COLOUR, SMELL ETC. THE WHOLE SHEBANG.
PRICE REFLECTS THIS! HAVE FUN!
THANKS, 
TOM AND TEAM.