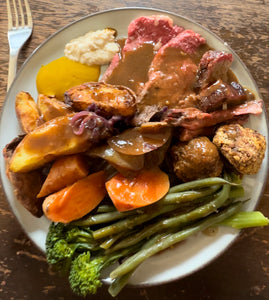 EVERYTHING TO MAKE THE TASTIEST CLASSIC ROASTS!
ROAST ALL YA VEG & MEATS WITH OUR SMOKED GARLIC  OIL.
DUST UP YOUR CRISPY ROASTIES, JUST AS THEYRE TURNING GOLDEN BROWN TOSS A LOAD OF STEAK HAUS ON THEM FOR ULTIMATE FLAVA.
USE ROAST DUST ON YOUR ROAST VEGGIES, LONE STAR ON ROAST BEEF, CHICKEN AND LAMB & HOG ROAST ON PORK!
INCLUDED: 
1 X ROAST DUST TIN
1 X SMOKED RAPESEED OIL
1 X STEAK HAUS SEASONING TIN
1 X HOG ROAST SEASONING SHAKER 
1 X LONE STAR SEASONING SHAKER 
 Enjoy! And remember to tag us in ya pics!