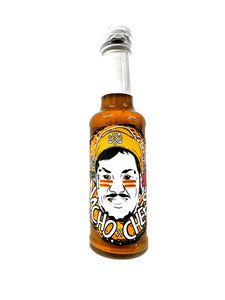 WE DID SOMETHING VERY NAUGHTY 
I HAVE A PLACE IN MY HEART FOR TACKY AMERICAN CHEESE SAUCES. I KNOW THEY'RE SHIT, BUT THEY'RE ALSO REALLY REALLY GOOD. 
WE MADE THE ULTIMATE SPICY, CHEESY HOT SAUCE - PERFECT FOR DRIZZLING OVER NACHOS, INTO BURRITOS, INTO BURGERS, OVER HOT DAWGS, ADD TO ANY CHEESE SAUCE FOR PASTAS, CAULI CHEESE OR MAC CHEESES! 
Nutritional Info
NOT Vegan Friendly / Allergens: BARLEY. Contains CHEESE. Obvs
Ingredients (Allergens in Bold) : DISTILLED MALT VINEGAR (GLUTEN), Red Chilli, Garlic, Big Chilli Cheezus (Cheese Powder (milk), Spirit Vinegar, Spices (paprika, Cayenne), Whey Powder (milk), Sugar, Salt, Yeast Extract, Crushed Chilli, Garlic Powder, Onion Powder, Ghost Chilli Powder, Jalapeno Extract, Acid E330, Herb (parsley), Natural Flavouring, Paprika Extract), Yeast, Water, Onion Powder, Salt, Olive Oil.