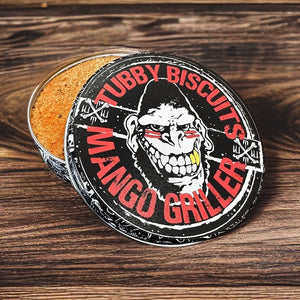 SUPER TROPICAL, SWEET GLAZE! 
WE'RE BRINGING BACK AN OLDIE WITH OUR NEW RUB MAKING KNOWLEDGE! IT'S SWEET, LIKE, SUPER SWEET AND TROPICAL WITH MANGO FLAVOUR. IT'S DESIGNED TO BE A DRY GLAZE TO BE USED OVER THE GRILL - BUT BEWARE, ONLY FOR EXPERIENCED GRILL MASTERS AS IT'LL SCORCH INSTANTLY! 
JUST OIL UP YA PROTIEN BEFORE DUSTING LIBERALLY. LET IT MARINADE FOR A WHILE BEFORE LAUNCHING OVER FLAME. IT'S QUITE GOOD TO REVERSE SEAR, TO ALLOW THE MEAT TO COOK IN THE MIDDLE BEFORE CHARRING THE EFF OUTTA IT TO GET SOME NICE CRISPY BITS.
BTW SHOUT OUT GORILLA BISCUITS, PLEASE DON'T HUNT ME DOWN FOR MAKING THIS RIP. IT HAD TO BE DONE, IT'S AN ODE!
Nutritional Info:
Vegan Friendly / No Major Allergens
Storage: Store in a cool, dark place. Once opened use within 2 weeks re-seal after each use. This is like magical powder, it's very fine. This means it can be susceptible to clumping if exposed to steam, high temperatures etc so use sensibly. Use ya fingers to break up the clumps if needed.