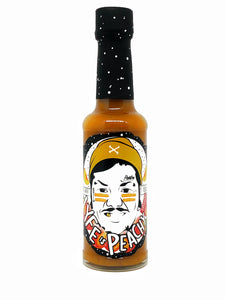 MOST WANTED LIMITED EDITION! GET IT WHILE YOU CAN!

 THIS IS OUR LIMITED EDITION PEACH HOT SAUCE! WE HAVE SO MANY PRODUCTS IT'S HARD TO KEEP UP, SO WE DO SINGLE BATCHES OF THIS ONE WHENEVER WE CAN SQUEEZE IT IN.
OUR PEACH X HABANERO SAUCE! WE KNOW A TOP GEEZER FROM BRIZZLE THAT GROWS A BUNCH OF JUICY HABANERO CHILLIES. I MIXED THEM WITH SOME PHAT PEACHES TO CREAT THIS SUPER SWEET, TASTY HOT SAUCE. IT'S EPIC WITH FALAFEL WRAPS, ANYTHING OFF THE GRILL, SCRAMBLED EGG/TOFU OR EVEN USE IT AS A SWEET GLAZE! I CALLED IT 'LYFE IS PEACHY' AFTER THE HARDEST KORN ALBUM. SPOTIFY IT, CRACK OPEN THIS SAUCE AND TRANSPORT YOURSELF TO THE LATE 90'S AND GET SUPER ANGSTY. PEACE! 
Nutritional Info
Vegan Friendly / No Major Allergens 
Ingredients (Allergens in Bold) : White Wine Vinegar, Smoked Peaches, Onion, Habanero, White Peach Puree, Sugar, Olive Oil, Smoked Salt, Pepper, Turmeric, Smoked Maltodextrin, Xanthan Gum, Natural Flavouring.