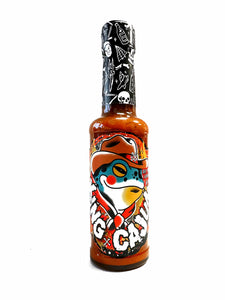 OUR FIRST CAJUN STYLE HOT SAUCE! 
 SPICY, EARTHY, TASTY AND A LIL CREAMY - THE NICEST DRIP FOR BREAKFAST BURRITOS, TACOS, MIX INTO MAYO AS A CHIP DIP, USE AS A GRILL BASTE FOR CHICKEN! CHUCK THRU PULLED PORK FOR THE MOST EPIC TACOS.
FOR FANS OF SHARK BAIT! THIS ONE'S A LITTLE SWEETER!
Nutritional Info
Vegan Friendly / Allergens: SULPHITES,  CELERY!.
Ingredients (Allergens in Bold); Distilled Malt
Vinegar(GLUTEN), Cayenne Pepper Mash (Chilli,
Salt, Acetic Acid), Sugar, Lemon Juice (Sulphites),
Garlic, Yeast Extract, Smoked Cumin, Paprika,
Celery Salt(CELERY), Smoked Rapeseed Oil, Black
Pepper, Beetroot, Xanthan Gum, Annatto, Bay Leaf
Smoked Salt, Cinnamon, Oregano.