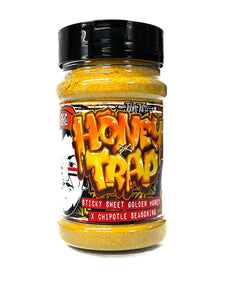 POOH BEARS FAVOURITE/ SWEEEET ONE FOR ALL THE FAMILY!
EASY ONE FOR MAKING FAMILY FRIENDLY FAJITAS! IF U LOVE THE TASTE OF SWEET HONEY AND SMOKED PEPPERS YOU'LL LOVE THIS!
DUST UP YA CHOPS, RIBS, CHICKEN BEFORE SMOKING OR GRILLIN! EVEN CHUCK IN THE OVEN!
ALSO GR8 ON POPCORN! 
Nutritional Info:
NOT Vegan Friendly / No Major Allergens
 Ingredients (Allergens in Bold); Sugar, Yeast Extract, Maltodextrin, Maize Starch, Flavouring, Honey Powder, Spices (paprika, pimento), Onion Powder, Caramelised Sugar Powder, Garlic Powder, Hydrolysed Vegetable Protein, Smoked Salt, Natural Flavouring, Spice Extract
Storage: Store in a cool, dark place. Once opened use within 2 weeks re-seal after each use. This is like magical powder, it's very fine. This means it can be susceptible to clumping if exposed to steam, high temperatures etc so use sensibly. Use ya fingers to break up the clumps if needed.