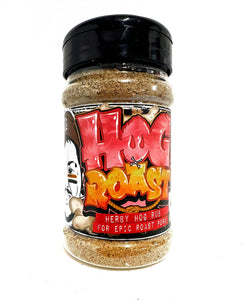 THE ESSENCE OF HOG ROAST IN A SEASONING!
I WANTED TO MAKE SOMETHING THAT WOULD RULE ON ROAST PORK. NOTHING TOO CRAZY, JUST CLASSIC FLAVOUR PAIRING. ROAST FENNEL, SAGE AND ROSEMARY ALL LEND THEMSELVES SO WELL.
EITHER USE TO RUB UP JOINTS FOR ROASTING OR SMOKING. OR USE ON  BELLY SLICES, CHOPS, RIBS. I HAD HOG ROAST RIBS LAST NIGHT AND THEY BANGED SO HARD.
Nutritional Info:
Vegan Friendly / Allergens : MUSTARD
Ingredients (Allergens in Bold); Salt, Sugar, MUSTARD, Spices (including Garlic), Fennel, Pepper, Apple, Herbs, 
Storage: Store in a cool, dark place. Once opened use within 2 weeks re-seal after each use. This is like magical powder, it's very fine. This means it can be susceptible to clumping if exposed to steam, high temperatures etc so use sensibly. Use ya fingers to break up the clumps. Peace