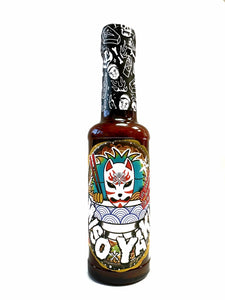 LIFE CHANGING FLAVOUR! SO DELICIOUS!!!


OUR BUDDY BUTCHER FARRELL CHALLENGED US TO MAKE THIS RED MISO GLAZE! HE LOVES IT ON HIS BEEF SKEWERS & NOW YOU CAN BUY SOME AND MAKE UR OWN!

I LOVE TO MARINADE CHICKEN THIGHS THEN GRILL EM! THEN BASTE FOR EXTRA POINTS! OR CHOP UP SOME CHICKEN TENDERS OR THIGHS OR WINGS, SALT EM UP WITH OUR DRAGON SALT AND SLAP EM IN THE AIR FRYER! PULL THEM OUT WHEN THEY CRISPY AND ADD THE SAWCE!!!!! DAMN DANIEL!
ANOTHER FAVOURITE THIS IS TO MELT SOME BUTTER IN A PAN, ADD THE MISO, MAKE A MISO BUTTER THEN ADD YA WHISKED EGGS FOR THE BEST SCRAMBLE YOU'VE EVER EXPERIENCED!!!!! TRUST ME I AINT TALKING NO BULL.
MAKE SURE YOU GO VISIT HIS MEAT EMPORIUM AND BUY LOTS OF SHEIT!
FYI THIS IS VEGAN FRIENDLY!!!!!!!!!!!!!!!!!!!!!!!!!!!!!!!!!!!!!!!!!!!!!!!!!!!!!!!!!!!!!!!!!!!
ARTWORK BY BLACK BUCK THE TATTOOIST IN STROUD
Ingredients (Allergens in Bold) : MISO (SOYBEAN, RICE, SALT, ALCOHOL), Sugar, SOY SAUCE (SOY, WHEAT), Distilled Malt Vinegar (GLUTEN), Chilli, Monosodium Glutamate, SMoked Salt, Smoked Rapeseed Oil, Spices, Pepper, Xanthan Gum.