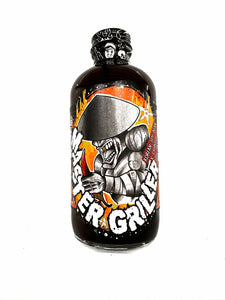 I, THE MASTER GRILLER! STRIKE YOU DOWN!

A KILLER HOT SAUCE AS AN HOMAGE TO ONE OF THE GREATEST METAL RECORDS OF ALL TIME.

A DELICIOUS BLEND OF FIERY CHIPOTLE, SOY, SUPER TASTY FERMENTED SOY BEAN AND A HEAVY DASH OF SOUR LIME! PERFECT FOR BASTING ANYTHING ON THE GRILL!
ALSO MAKES A WICKED STIR FRY SAUCE. 

SPECIAL SHOUT OUT TO @GRANTEGRITY FOR THE AMAZING DESIGN AND TO MOSH PEETT FOR THE NAME & FOR GETTING ME HOOKED 

Ingredients (Allergens in Bold): Chipotle Mash (Chilli, Acetic Acid, Salt), Tomato, Sugar, SOY SAUCE (SOY, WHEAT), Korean Fermented Soy Bean Paste (SOY, WHEAT), Distilled Malt Vinegar (Gluten), Lime, Yeast, Garlic, Monosodium Glutamate, Fennel, Anise, Cinnamon, Clove, Smoked Maltodextrin, Xanthan Gum.