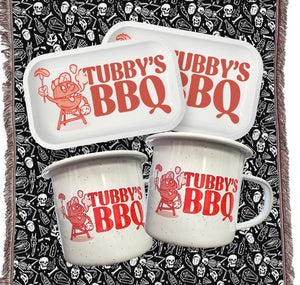 THIS ONE'S FOR ALL YOU OUTDOOR CATS! A BUNDLE OF ESSENTIALS FOR IF YOU LOVE SLEEPIN' OUT UNDER THE STARS!
LOADED WITH TWO MUGS TWO TRAYS AND A BLANKET TO CWTCH UNDER, YOU'RE WELCOME.
INCLUDED: 
1 X DELUXE WOVEN TUBBY BLANEKT
2 X ENAMEL MUG
2 X ENAMEL TRAY
 Enjoy! And remember to tag us in ya pics!