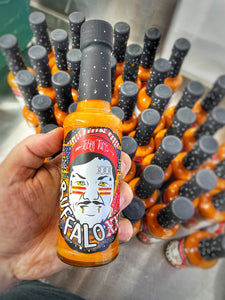 GET THE BOG ROLL IN THE FRIDGE & KISS YOUR ASS GOODBYE! 
My take on a classic buffalo hot sauce - super tangy with loads of tasty garlic and aged cayenne peppers but this time we jacked it the hell up. Searing heat from ghost peppers and scorpions, we ain't playing!!!
THIS IS THE EXTRA EXTRA HOT VERSION! For the regular version please search for buffalo!
It's made for hot wings, just roast of fry ya wings before glazing in this sauce. If you want to be extra you could melt some butter in a pan and mix in a big glug of buffalo before glazing.

I love wings but I actually use this more as a table condiment - it's sharp and light and works so well with fried breakfast, poached eggs or avocados. Great as a hot dip or just mix with a bit of mayo for extra creamz.
It took me nearly 6 years of obsessive searching to find the right cayenne flavour and now i've got it. Ain't nothing like it.
Nutritional Info
Vegan Friendly / Allergens: BARLEY.