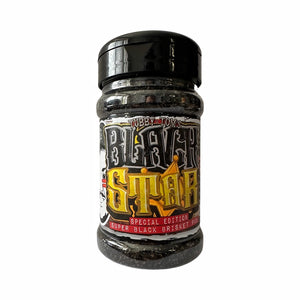 SUPER LEAN, NO ADDED SUGAR AND SUPER BLACK. HEAVY PEPPER BRISKET RUB THAT'S GOOD ON EVERYTHING! ALSO GOOD FOR DIETS LOL
THIS IS THE BLACK VERSION OF OUR SUPER POPULAR LONE STAR - WE'VE MADE IT EVEN LEANER TOO, CLASSIC AND DELICIOUS FOR BUILDING EPIC BARKS.
THE IDEA WAS TO CREATE A NICE CRUNCHY RUB THAT AMPLIFIES BRISKET FLAVOUR WHEN SMOKING. IT'S HEAVY PEPPER, SMOKED SALT AND LOTS OF TASTY SPICES AND DOESN'T 'FLAVOUR' IT WITH ANYTHING TOO DISTRACTING.
TURNS OUT THIS IS ONE OF MY FAVOURITE SEASONINGS WE'VE EVER MADE AND I DID OUR SMOKED TURKEYS WITH IT FOR XMAS. I HAVE SCRAMBLED EGG WITH IT VERY OFTEN. I EVEN BROKE OPEN A BIG BAG OF CHEESE AND ONION CRISPS WHICH F*CKING SUCKED AND HAD SHIT ALL FLAVOUR SO I DUMPED A LOAD OF LONE STAR IN AND THEY BECAME PEPPERY SALTY TASTY WITH ADDED CRUNCH! 
Nutritional Info: No major allergens
Vegan Friendly 
Storage: Store in a cool, dark place. Once opened use within 2 weeks re-seal after each use. This is like magical powder, it's very fine. This means it can be susceptible to clumping if exposed to steam, high temperatures etc so use sensibly. Use ya fingers to break up the clumps. Peace