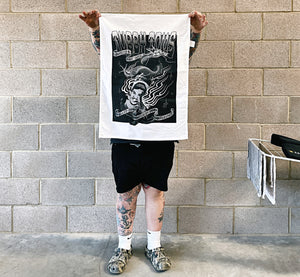 FROM THE TALENTED DEAN ERBERHARDT AT SPIDERLAND TATTOO
NOT ONLY CAN YOU MAKE THE RADDEST BADDEST FOOD ON THE PLANET WITH TUBBY TOM'S, YOU CAN NOW CLEAN THAT SHIT UP AFTERWARDS AND STILL LOOK FLY.
SUPER SEXY PRINT, SUPER SEXY TOWEL. YOU COULD USE IT AS A NAUGHTY TOWELLETTE IN A STRIP TEASE, WET IT AND USE IT AS A CHEEKY WHIP, FRAME IT, THROW IT OVER YOUR SOFA, STAPLE IT TO YOUR DENIM JACKET.